Author: Wycliffe W. Simyu Njororai
Humble beginnings
The quest to establish the earliest exact date when women started playing association football or soccer in Kenya is ongoing. However, records show that by around 1984, women were taking part in football in Kenya.
The late entry of women into football was influenced by the way the sport was introduced by British colonizers. Initially, football was introduced in Kenya as only a boys' sport in the late 19th Century, while women were introduced netball as girls-only sport. In all schools and institutions where these two sports were played, there was a clear demarcation for boys' and girls' sports.
However, in 1980, the then President of Kenya, Daniel Arap Moi, decreed that Physical Education be introduced as a compulsory teaching subject in all Teacher Training Colleges. This meant that teacher trainees were introduced to various national sports irrespective of gender so that they could teach skills during Physical Education classes in various schools after graduation. Therefore, in the early and mid-eighties, women started playing the game on a recreational basis.
By the mid and late 1980s, formal women's football teams started emerging as more women only teams were invited to take part in demonstration activities during Agricultural Shows of Kenya in major cities around the country. Some of the early women's football teams are traced to the National Youth Service in the mid-1980s and within a short time other teams followed including Eastlanders, Nairobi City Council, Standard Chartered Bank, Kenya Utalii College, all in Nairobi, and Nyayo Stars as well as and Eregi Teachers College from Kakamega County in Western Kenya.
These early teams did not have formal competitions and only engaged in recreational activities as well as informal matches for demonstration purposes.
Institutions of Teacher Education also exposed prospective teachers to playing and teaching football. In the early 1990s, Kenyatta University had a women's team formed mostly from the Physical Education degree program to play annually against male Professors during the university's annual Culture Week extravaganza.
Formation of Kenya Women's Football Association
The late eighties and early nineties were pivotal to the establishment of women's football in Kenya as at international level women's football was already well established to the point where the first FIFA Women's World Cup (initially a championship) was held in 1991 in China. The global event instigated a movement to launch football structures in many countries, Kenya included.
The first step was to form a national committee charged with registering a football association to organize and run the women's game. The first committee was headed by the late Albert Arum who had travelled to the USA in the early eighties and seen women playing competitive football. Thereafter the Kenya Women's Football Association (KWFA) was established in 1993 headed by Fridah Shiroya (Chairperson) and Rebecca Olela (Secretary General). Rebecca Olela had previously been involved with running the Kenya Netball Association (now Kenya Netball Federation) having been a great netball player in her prime. The other committee members were Solomon Kilasi, Albert Arum, Salamba Amienda, James Sianga and Habil Nanjero.
The formation and registration of KWFA spurred more interest in the game as it was now possible to organize tournaments. Meanwhile, institutions of learning including primary, secondary schools, and colleges started forming teams and taking part in invitational tournaments. Most of the tournaments were held in Nairobi usually using Kenya Utalii College and Kenya Commercial Bank fields that were easily accessible and available. The surge in teams forming and tournaments taking place led to the formation of the national team which was initially christened 'Nyayo Stars' but later changed to Harambee Starlets (Note that the men's team is referred to as Harambee Stars). Women's football tournaments received sponsorship from Orbit Sports, Barclays Bank, Mathare Youth Sports Association (MYSA), Kenya Football Federation (precursor of Football Kenya Federation) and media houses. MYSA was particularly instrumental in growing women's football as it had a huge network in the slum of areas of Nairobi. The teams were grouped by age allowing for early development of the technical and tactical abilities of the players. Universities were also quick to join, with Kenyatta and later Egerton, United States International University, and University of Nairobi having standing teams.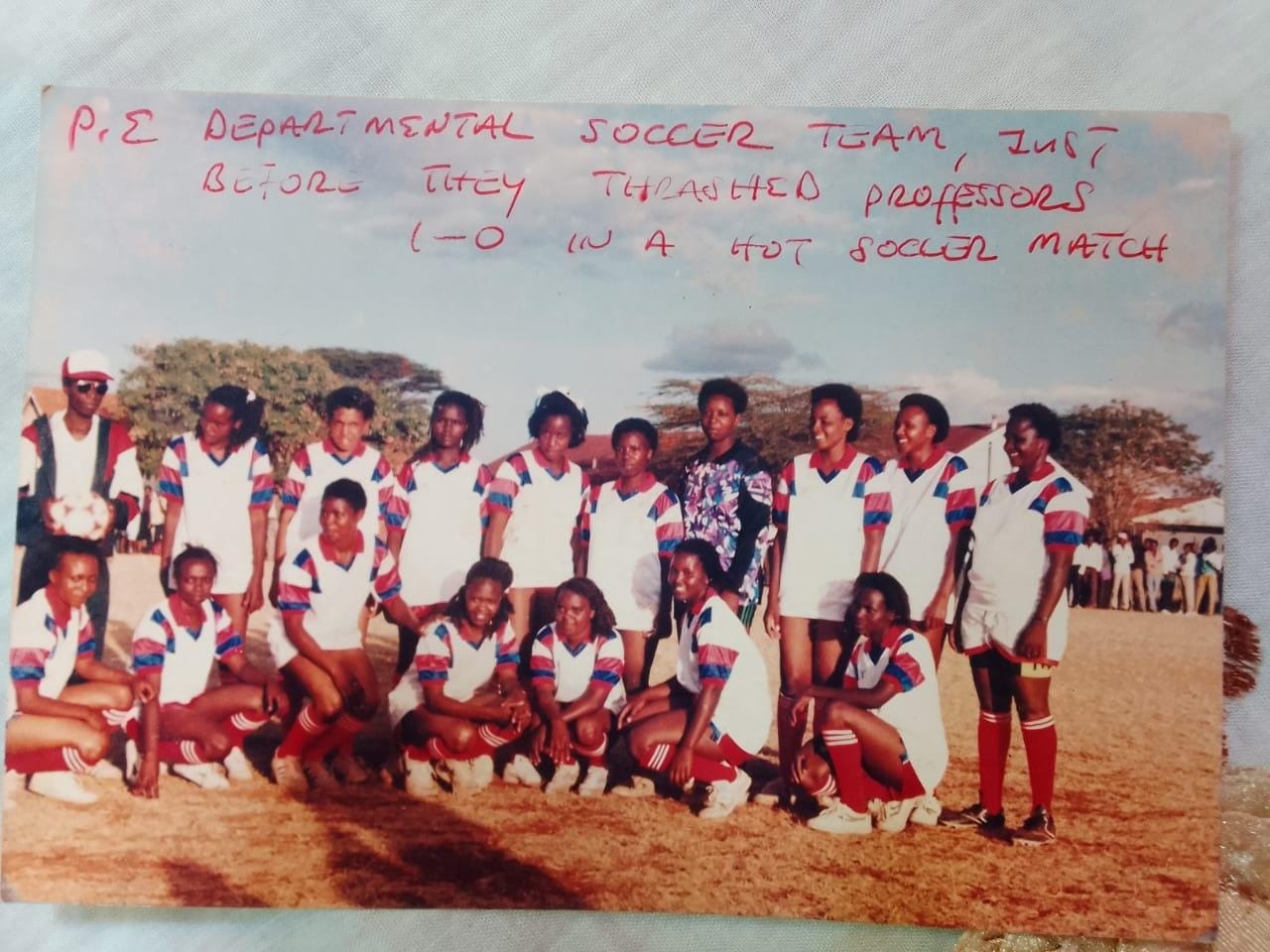 Kenyatta University Women's football team ready to take on a Male Professors team in 1992
International matches
In the 1993/1994 season, Kenya played two international friendly matches against Uganda, winning both at home in Nairobi and away in Kampala. The limited opportunities for competitive international football in East Africa, and Africa in general, compelled the KWFA to invest resources in a series of friendlies with Uganda hosted in different cities. Apart from the friendly matches with neighboring Uganda, Kenya also sent a youth team to participate in a tournament in Aberdeen, Scotland.
KWFA managed a major accomplishment when they managed to secure a trip to the USA to participate in an international tournament. Although there was hardly any support from the then Kenya Football Federation and the Government of Kenya, well-wishers and different institutions chipped in to sustain the national team and its local and international engagements. Institutions like Buruburu Secondary School and Shepherd Junior Academy were quite supportive of the national women's team during their residential training, offering football pitches and even catering services.
The reign of KWFA, however, was short-lived as by 1996, FIFA decreed that women's football was to be part and parcel of the national football associations in each member country. Thus, in the 1996/97 election a woman was elected to serve as a Vice Chairman charged with overseeing women's football. This meant that there was no place for KWFA, and it became obsolete under pressure from FIFA. Women's football was now under the control of the Kenya Football Federation as a subcommittee. Kenya Football Federation also took over the management of the women's national team. Unfortunately, under KFF, later renamed FKF, women's football at national and international did not flourish. However, at grassroots level, women's football grew and became an established fixture in the annual calendar for primary and secondary school competitions, teacher training colleges and even universities.
Kenyan Women's Leagues
FKF runs different tiers of leagues for women's football. The Kenyan Women's Premier League is the top tier women's football league in the country. The league has not been held with any measure of consistency. However, the first edition was held in 2010 where MYSA Ladies emerged winners followed by Matuu (2012), Oserian (2014) (The league renamed FKF Girls Premier League), Thika Queens (2015, 2017), Vihiga Queens (2018, 2019) and Thika Queens (2021). There are, on average, 15 teams that take part in the league. Two of the landmark accomplishments were being runners-up in the 2016 CECAFA tournaments for women, and participating in the Women's Africa Cup of Nations, despite losing all three matches, and thirdly winning the 2019 CECAFA women's tournament (see figure 2).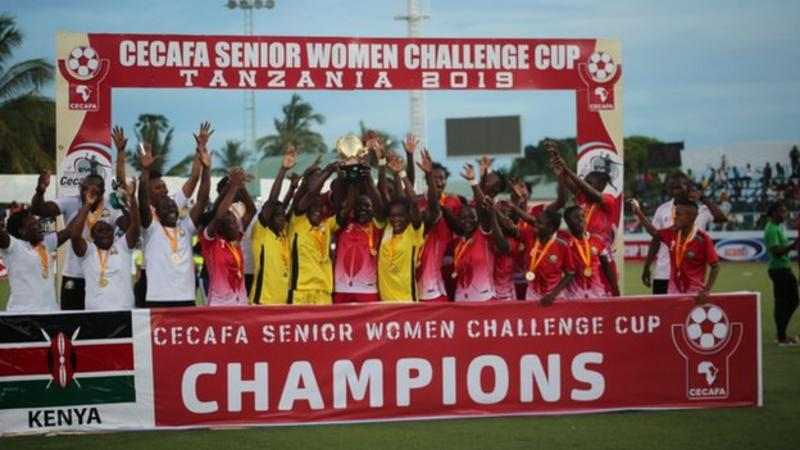 The Kenya Starlets stopped hosts Tanzania's Kilimanjaro Queens 2-0 to win 2019 CECAFA Senior Women's Challenge Cup
According to the FKF's structure for women's football, there are four tiers of women's football leagues, including the FKF Women's Premier League, the FKF Women's Second Tier League, the FKF Women's Third Tier League and the FKF Women's Fourth (Bottom) Tier League. In 2021, under the facilitation of FIFA, FKF formulated its strategic priorities for growing women's football in Kenya by focusing on: grassroots and youth football, leagues and competitions/club licenses, national teams/performance centers, capacity-building, marketing and branding.
Profile of a Pioneer Professional Player and Leader
For many years, Kenyan sport has been associated with dominance in track and field, both at continental and global level, by runners. This dominance has been difficult to replicate in other sports. However, soccer, which is the national sport, has produced a few professional players who moved to ply their trade in Europe, including women.
One such trailblazing talent was Doreen Nabwire who moved abroad to play in Europe featuring for Werder Bremen, PEC Zwolle and FC Koln. Like many other women players, she rose from humble beginnings. She was the first Kenyan woman to play football in Europe. She also served as the captain of the Kenya women's national football team. Doreen played as a midfielder during her days as a footballer. She was born on March 5, 1987, as the third born in a family of six. Doreen was born in Ngomongo estate in Korogocho, one of the poorest parts of Nairobi, Kenya. She comes from a footballing family as all her siblings play soccer at different levels. Doreen attended Valley Bridge Primary School in Huruma, Nairobi where she began playing football. Her talent was noticed by players who informed her about Mathare Youth Sports Association (MYSA). MYSA is a well-known Non-Governmental Organization that uses soccer to improve and sustain a healthy living environment in the slums of Nairobi. MYSA's aim is to empower young people through football on and off the field.
Doreen wanted to join Mathare United women's team but was stopped by her mother who felt that women were not meant to play football as a career. Doreen did all she could, including doing her chores in good time, asking her friends to go and plead with her mother to allow her to play, but the answer remained the same- no! This is a problem many girls still face in Kenya in their efforts to pursue their passion for playing the game of football (Tranfaglia, 2014). Ironically, her father, was more supportive and intervened for her to join North Villas FC and later MYSA. MYSA was being supported by the largest youth football tournament in the world, Norway Cup. The tournament attracted more than 1,000 teams all over the world and hence it was very attractive to young players with the ambition to travel abroad. Doreen impressed at North Villas FC and she was invited for trials for the MYSA team in 1998. Doreen passed the trials and was part of the MYSA team in three consecutive Norway Cup tournaments as a teenager. Her first tournament was in 1999 with the under 14 team. She first won the tournament in 2000 and later 2001 as the team's captain.
Doreen was then promoted to Mathare Women's team in 2002. She was rated as one of the best female midfielders in the inaugural Kenyan Premier League during her time at Mathare. The midfield maestro became Kenya's first woman to play professional football in Europe when she joined Werder Bremen of German's Bundesliga in 2010. She played at the club for one season, making 18 appearances and scoring seven goals. She then joined PEC Zwolle Vrouwen FC in the Netherlands the following season. PEC Zwolle had just been founded the previous season. Doreen just spent one season at PEC Zwolle. She made 16 appearances for the club and managed to score just one goal. However, Nabwire returned to Kenya in July 2011. She returned with UEFA C coaching license which she studied for while playing for PEC Zwolle. Doreen then joined MOYAS FC as a player coach for the 2011-12 season. She helped the club win the Kenya Super 8 League in her first season. Doreen then joined Matuu FC the next season and helped the team win the 2012 Kenya Women's Premier League. She returned to Europe in November 2013 and signed for FC Koln. She made her first appearance for the German club one month later in a game which they lost 2-1. Doreen suffered a ruptured Achilles tendon in February 2014. The injury ended her professional football career as she returned to Kenya a few weeks later. Doreen continued with her involvement in football after returning to Kenya. She worked with NGOs aiming at improving women's football in Kenya. Her football background and studies enabled her to be appointed as the team manager of Harambee Starlets in 2016; Director of Women's Football and Women's Football Development Officer since 2016; and Football Kenya Federation (FKF)'s Deputy Competitions Manager. She also went on to start "Girls Unlimited", enrolled in the FIFA Women in Football Leadership Program where she graduated and became a Programs and Development Manager in FKF. She is also a qualified Coaching and Leadership Instructor as well as a Football Analyst. These accomplishments show how women's football can be a pathway to success in life. However, women must be prepared to overcome many challenges along the way.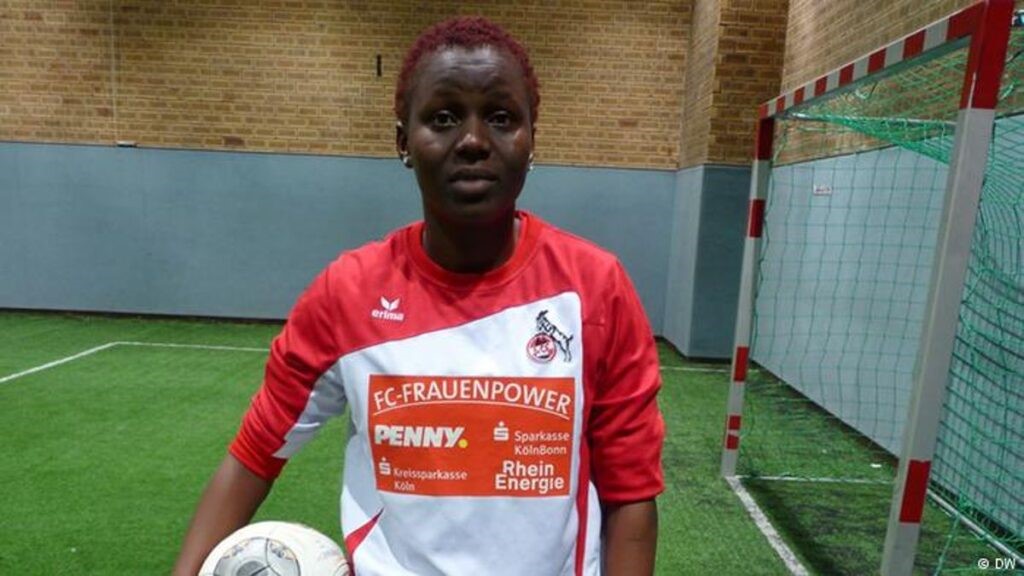 : Doreen Nabwire, first women's professional soccer player from Kenya to play in Europe
Conclusion
Although it is laudable that FKF has a clear structure for women's football in Kenya and has put in place strategic priorities to grow the game, and some women have gone on to play the game at professional level in Europe, the reality on the ground is not as bright. The women's leagues and teams face inadequate funding and access to women-friendly facilities and equipment; lack proper football attire, experience restrictive gender roles and responsibilities that are time consuming and a negative societal attitude towards women football players, as well as dealing with the biological factors such as menstruation and pregnancy which keep women away from the sport. It is also evident that there is minimal effort by the concerned officials to publicize women football. The media also gives women's football a total blackout (Wangari et al., 2017). Thus, the governance of women's football needs to step up to improve the administration and management of the sport if it is to grow and flourish in Kenya. The current suspension of Kenya from international engagements by FIFA since early 2022 for Government interference in the administration of the FKF does not help matters for women's football growth and development.