Author: Ernest Yeboah Acheampong
While the history of women's football is told in many countries around the world, that is not the case in Ghana where there are conflicting views on the exact region where women's football started and various anecdotal reports of girls playing with males in certain communities. However, the game was the preserve of boys only for a long, dark period.
Cape Coast was the birthplace of Ghana football. The first football club formed was Cape Coast Excelsior in 1903. Football was introduced to students of the local Government Boy's School under the headmastership of a Jamaican sportsman, Mr Briton in Cape Coast. During the Gold Coast era, women were not formally forbidden to play football rather they adorned the Gold Coast star players and were the proud company of them, especially the elite of society girls (Ohene Djan,1968). From 1970s onwards some women were seen playing with boys in Colts teams. However, as the game spread across the country, girls were known to play alongside the boys especially in school break times.
This continued until the late 1970s and early 1980s when Glady Adu Opoku was spotted playing for a colts team1 (boys only) in Kumasi before she left to Cote D'lvoire to continue her football with ASEC Mimosas Women team in 1987. Around that era, colts teams engaged in football to satisfy their social activity as it played a social role for boys/girls to have fun (Acheampong et al., 2020).
We must dig deeper to find the origins of women getting involved in playing football despite some being labelled as 'man-woman'2 in their communities in the early stages (likening them to 'koboloi'3 in local parlance (Acheampong & Raspaud, 2022; Acheampong,2021; Acheampong et al., 2020; Esson, 2016).
Games for social ladies' clubs
Between 1982 and 1983, females used to play a football gala labelled the Community Revolution Games, organised by the 31st December Women's Movement4 under the auspices of W.H. Yeboah (the late, then the Regional Secretary-Regional Minister), who was a former Headteacher of Ayeduase Roman Catholic school in Kumasi. Notably, ladies' social clubs that participated in the games were Ashtown Ladies, Asafo Ladies, Adum Ladies, Bantama Ladies, Oforikrom Ladies, Krofrom Ladies and Dichemso Ladies among others.
Ashtown Ladies had the youngest girls' team, which later became a football club. As a way of promoting their visibility in the communities, the Ashtown football club travelled to towns and cities to play friendly matches with male teams for fun while collecting some tokens to cater for their transportation costs. Surprisingly, anytime the club travelled outside Kumasi, they used to add two or three boys to their team- one of such players was Thomas Duah, a former Ghanaian International player and a coach of Ashantigold SC in Ghana. Ashtown Ladies also had the opportunity to play a friendly match with Lotteries Ladies team in Accra. During the same year, Ghana Broadcasting Corporation (GBC) used to organise fun games and invited ladies' social clubs from the communities to their anniversary celebration in the second largest city in Ghana, Kumasi. This social event included a football gala which was organised for ladies' social clubs to play and attracted crowds to the venue. From this event, a player from one of the social clubs decided to form a female team with the talents on show. Within a month, this player (Habiba Atta Forson) together with certain women in the community formed a team, which was named after the community where they resided, called Ashtown Ladies Club in 1985.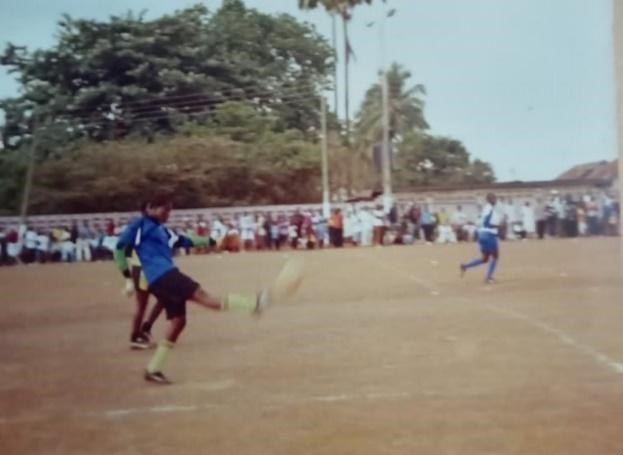 These enterprising young women formed the sports club with the mission of helping girls and other female groups to socialise through football. The team's training venue was Konadu Yiadom Park in Ashtown, Kumasi and they began with 20 girls attending its first training session with Habiba Atta Forson acting as both player and an unlicensed coach.
Forson is currently a member of the executive council of the Ghana Football Association (GFA), and her interest in coaching started when she was employed as a sports teacher at Kumasi Secondary Technical school after her secondary education. Before that, she used to play football with her brothers at home and other boys in the area. Her interest in football and her background fitted perfectly with the Ashtown Ladies team. In 1987, this budding Ashtown Ladies team was invited to participate in an international tournament as the first female team to travel outside the shores of Ghana and returned with a trophy after defeating the likes of ASEC Mimosas women's team, Africa Sport and Stella Club from Ivory Coast. With sponsorship from Mr Gyarfaru, a business man from Kumasi, who had then returned from abroad, Ashtown Ladies football team eventually made the trip to Ivory Coast after several postponements due to financial difficulties.5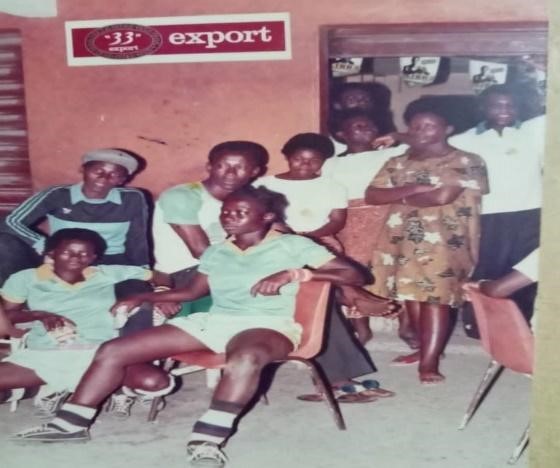 Habiba Atta captained the Ashtown Ladies team, chaired by Mr Osei Mensah, to win a trophy at the four clubs' tournament in Ivory Coast. During the same period there were some ladies' teams formed as social clubs in Greater Accra, the capital of Ghana, that also played football for fun occasionally. All this while, on the African continent, women's football was not recognised by CAF so there was not any official tournament in place for them to compete.
In the late 1980s, the Greater Accra Women's League Club emerged with companies like the Post Office (Postal) and Ghana Telecommunication (Ghatel) among others forming Ladies' teams as part of their corporate social responsibility to communities.
These ladies' football clubs were formed for social purposes to support participation in physical activity. Keeping the women players active led to the organisation of unsanctioned competitions in Kumasi and Accra respectively. Interestingly, in 1988, Accra Ladies Football Club defeated the Ashanti Regional champion Ashtown Ladies Club 3-1.6 The Accra Ladies were led by Alberta Sackey, Evelyn Cobblah and 16-year-old Vivian Mensah while Dora Zutah, Adjoa Agyeiwaa and Joyce Gyimah were among the notable players for Ashtown Ladies club.
Improvised Leagues
Before 1990, a former Ghanaian International, George Alhassan formed a ladies' team in Accra and named it Monaco Ladies (renamed La Ladies after the La suburb of Accra) which later joined the Greater Accra Women's Football League. Remarkably, La Ladies was a typical traditional club and any time they went out to play a match, most fans/supporters from the La community followed them to watch and cheer them on. In 1991, Monaco Ladies travelled to Nigeria to play matches without permission from the unsanctioned league organisers and subsequently, they were banned upon their return.
Some of the social clubs that participated included Bluna Ladies (which eventually became Supreme Ladies, a club Mercy Tagoe Quarcoe played for), Ashiaman Ladies, and Monaco Ladies, who amongst others were members of Greater Accra Women's Football League Club formed in the early 1990s.
Before 1990, various Social Fun Clubs in Kumasi organised themselves into football teams, out of which Habiba Atta formed the Ashtown Ladies team. Some of the Ladies' teams that emerged from the communities were Bantama Ladies, Asafo Ladies, Kwadaso Ladies, Asafo Market Ladies, Central Market Women, and Nurses Ladies (from the central Hospital). These unofficial leagues of women organised in both Kumasi and Accra were signals to the football authorities that women's football should be considered and formalised.
Official matches played
The Ghana Football Association raised a women's team for its first official match in the qualifying rounds for the 1991 FIFA Women's World Cup. In order to do so, the GFA hurriedly assembled talented players from different ladies' social clubs in a recruitment drive at Kanshie Sports Complex (now named after Azumah Nelson Sport Complex-a former World Boxer), Accra. Some players came from Keep Fit Ladies Club, Lottery Ladies Club from Accra and Kumasi social clubs. After forming a national team, it was named the 'Black Queens', which might have originated from Stephen Stills's song composed in 1970. The selected players were camped at the Girls Guild Training Centre at Achimota, Accra and periodically regrouped at the same venue until they played Nigeria in the CAF single qualifier for the FIFA Women's World in 1991, which was hosted by China.
The team was made up of players from Kumasi and Accra who were engaged in some form of unsanctioned leagues. This Black Queens team was handled by coach A.K. Edusei and assisted by Dan Owusu, a former national team (Black Stars) player. Even though the national team lost their first match in Lagos, which ended 5-1, the return encounter in Kumasi was fiercely contested after Ghana strengthened its squad with two female elite players (Alberta Sackey-who was then playing professional volleyball in Cote D'lvoire and played football in Ghana, and Dora Zutah who played for ASEC Mimosas Women team in 1988). Some notable players that featured in the first leg include Adjoa Agyeiwaa (who became welfare officer for the Black Queens from 2006-2014 and 2015 for Black Maidens (the U20 side) after retiring from playing, Joyce Gyimah, Stella Osei Mensah (nicknamed Ember), Esther Nti (nicknamed B. Marley), Yaa Konadu (nicknamed Agasco), Hannah Appiah (nicknamed Siasia), Eunice Adu-Amoah and Rebecca Tay among others.7
The second leg was an improvement on the first game and ended 2-1 in favour of Nigeria. This was the line-up for the match: Dora Zutah (GK), Yaa Avoe, Rita Yeboah, Adjoa Agyeiwaa (deputy captain), Alberta Sackey (Captain), Elizabeth Baidoo, Mavis Djamgba, Genevieve Clottey, Mary Manu, Vivian Mensah, Hannah Appiah. Substitutes: Helena Wilson, Julian Kakraba, Esther Quartey, Nana Amma Gyamfua, Faustina Doyi, Rosemary Konadu, Doris Netty and Memunatu Suleimana (GK).
It was a strong squad and they received a lot of praise after losing 2-1 to Nigeria at the Baba Yara Sport Stadium in Kumasi. Two years later, the FA sanctioned a national women's league.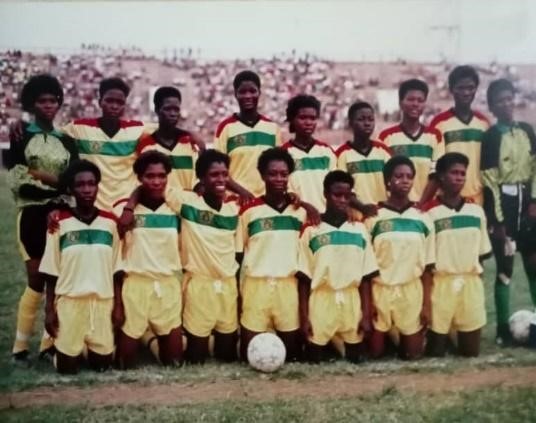 The Black Queens participated in two different international tournaments and won both. In 1994, the team subsequently participated and won the Mano River tournament in Sierra Leone.
The same year, the Black Queens won an eight-nation tournament hosted by India as its first international match abroad. The countries that took part were Russia, Bulgaria, Chile, Uzbekistan, New Zealand, Hungary, India and Ghana.
Formation of National League
After the team failed to qualify in 1991 for the FIFA Women's World Cup in China, ladies' football clubs started to spring up across the country, particularly in the capital of Ghana where clubs later came together and formed the Greater Accra Women's Football League. Some clubs that were part of the league included Bluna Ladies (which eventually became Supreme Ladies, a club Mercy Tagoe Quarcoo played for before being selected for the Black Queens), Ashiaman Ladies, Postal Ladies, and Ghatel Ladies among others.
At the same time, Kumasi had created its unofficial league and notable clubs were Bantama Ladies, Asafo Ladies, Kwadaso Ladies, Kotoko Ladies, Asafo Market Ladies, Central Market Women and Nurses Ladies. In 1992, the GFA officially sanctioned a national women's league after a circular from FIFA asking member associations to play women's leagues in their respective territories. Some football clubs that played in the maiden national league were Monaco Ladies (La Ladies), Postcom Ladies (which was later split into Postal Ladies and Ghatel Ladies), Mawumena Ladies, Nungua Ladies, Supreme Ladies (Southern sector) and Fabulous Ladies I, Sunyani Taxi Queens, Oforikrom Ladies, Fabulous Ladies II and Sepa Ladies (Northern sector). Northern teams included Ashtown Ladies Club that was dominant and got split after a disagreement among the owners, resulting in the creation of Fabulous Ladies I and Fabulous Ladies II.
Some of the outstanding players were those that had received the opportunity to feature for the Black Queens team in 1991 but also Alberta Sackey and Dora Zutah, who had then left the shores of Ghana to play in Cote D'lvoire around the 1980s.
After two decades of playing the national women's league, the GFA then divided the registered clubs into two zones due to financial difficulties and long travelling distances. The clubs were grouped into two zones, that is, the Northern and Southern respectively. After 2012, the number of teams participating in the zonal leagues has increased to 10 each and there is a play-off to determine the overall champion for each season. These days, women's football has spread across the regions where they play regional leagues aside from the national league.
Black Queens
The Black Queens have participated in three FIFA Women's World Cups (1999, 2003, 2007) and 13 Women's Africa Cup of Nations (WAFCON). After the formation of Black Queens, the team was coached by male managers until 2018, when a former player and a member of the 1999 FIFA Women's World Cup squad, Mercy Tagoe Quarcoo was appointed as the first female interim coach. In 2019, Mercy Tagoe Quarcoo assumed the head coach role of the Black Queens and remains in the post.
Some phenomenal players who had featured for their national team from the 1990s until late 2000s are Dora Zutah (GK) – now the assistant coach to the national U20 women's team (Black Princess), and Adjoa Agyeiwaa, Alberta Sackey (Captain), Elizabeth Baidoo, Julian Kakraba, Eunice Adu-Amoah, Faustina Doyi, Genevieve Clottey, Esther Quartey, Nana Amma Gyamfua, Mavis Djamgba, Vivian Mensah and Doris Netty (Monaco Ladies/La Ladies), Helena Wilson, Memunatu Suleimana (Mawuena Ladies), Rita Yeboah, Yaa Avoe, Patience Sackey, Adjoa Bayor(African Women Player of the Year-2003), Florence Okoe among others.
Adjoa Bayor has been the most travelled football migrant in the history of women's football in Ghana by playing in top elite women's leagues in USA, Germany and China. Interestingly, the national team was the first to qualify for a World Cup and represent Ghana on a global stage, although women's football development stagnated domestically but the growth of women's football was stagnant.
In 1999, before the team kickstarted the FIFA Women's World Cup in the US, they played some friendly matches. This shows how women's football has evolved from social clubs to ladies' football clubs yet, it is given less attention and least financed, which has hindered its development in Ghana.