Author: Adam Beaumont
Malta's footballing history is as deep as you would expect from a European country that was formerly part of the British Empire. The roots of the sport on the islands trace back even to the late 1800's and only really saw intermissions across the wars. Unfortunately, as with many countries, this seems to have been considered only a men's activity. However, their history in women's football has its own twists and turns.
With the depth of footballing history that Malta has, it is hard to imagine that there was no women's football in the early days. Pre-independence, it is likely that any roots of the game would've then been driven out by the English FA's ban. However, we have not been able to find any evidence that far back that would prove anything with regards to women's football.
As attitudes towards the sport softened across Europe in the 1970's, there were small scale attempts at women's football. However, local opposition remained strong, with religious influences and apathy from the MFA playing significant parts in hampering any possible development. A handful of matches were played, though records do not really survive from these times. Teams mainly consisted of groups of local women, grouped into teams by their work, and this would continue into the organised development of the game.
League Football
Initially there was little structure, and hence few records. Teams would be small in scale and would form solely for individual matches, depending on what could be organised. The start of the 1990's brought the beginnings of a structure to the game, and helped set the stage for formal development. An actual league was put together, with teams being 5-a-side. Continuing the tradition of teams formed from their workplace, the Banks team would be a prominent early member. However, it quickly became clear that only 5-a-side wasn't enough, considering the expanding popularity.
With matches becoming more common, the game becoming more structured, and pressure from the players & managers rising, the MFA allowed a formal 9-a-side league and corresponding cup to form in 1995. While they now had official sanction and would get to play, there were still significant downsides. Women's football was not allowed on the standard pitches, mainly being played on hard surfaces, which was made even worse by the fact that the players had to front the bill. Everything from medical support to even kits tended to fall under the player's purview and this would continue into the early 2000's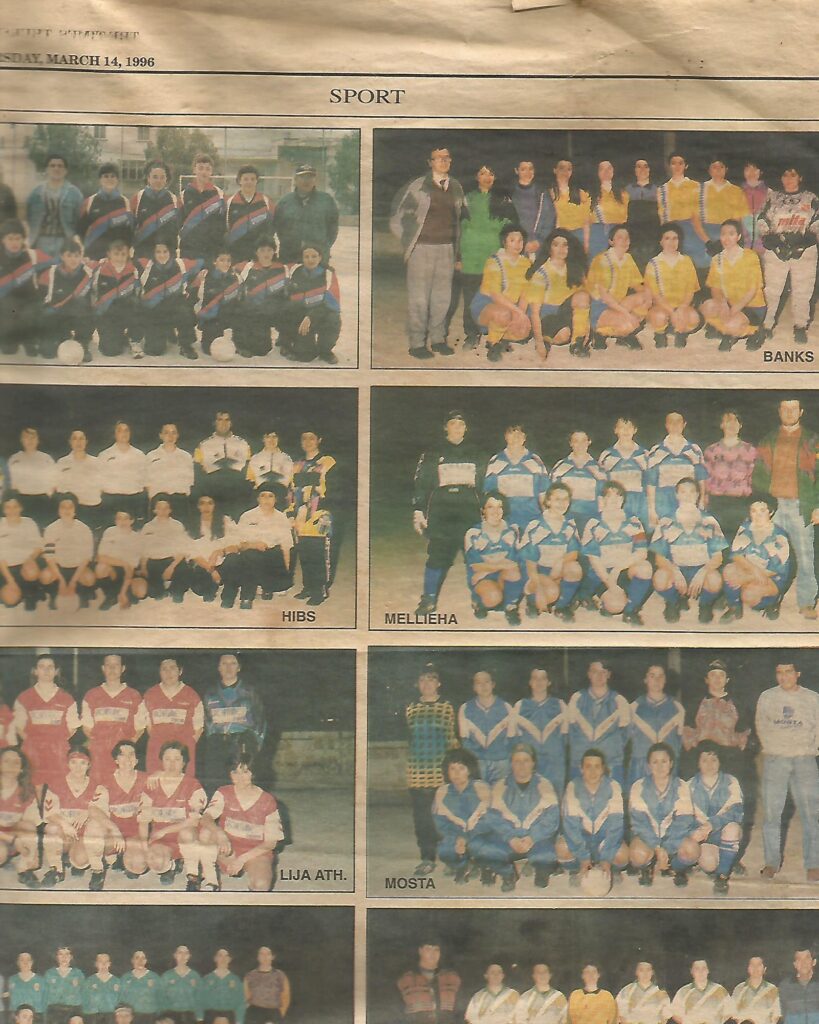 The expansion of the league to standard 11-a-side came just prior to the turn of the millennium. This brought a slight narrowing of the league, from 8 to 6 teams. Several prominent teams from the men's league were active, such as Hibernians and Birkarkara, but even today some names are still noticeably absent. As the 1999/2000 season concluded, they caught the attention of their neighbours for the first time, despite the league's comparatively small size.
Melita FC, who had finished 4th in the season, were invited to a women's football tournament in Verona, Italy. The diminished Melita squad (due to injuries and costs of travel) would lose all three of their matches, but only narrowly so, putting on a respectable performance that would be comparable to the other involved teams.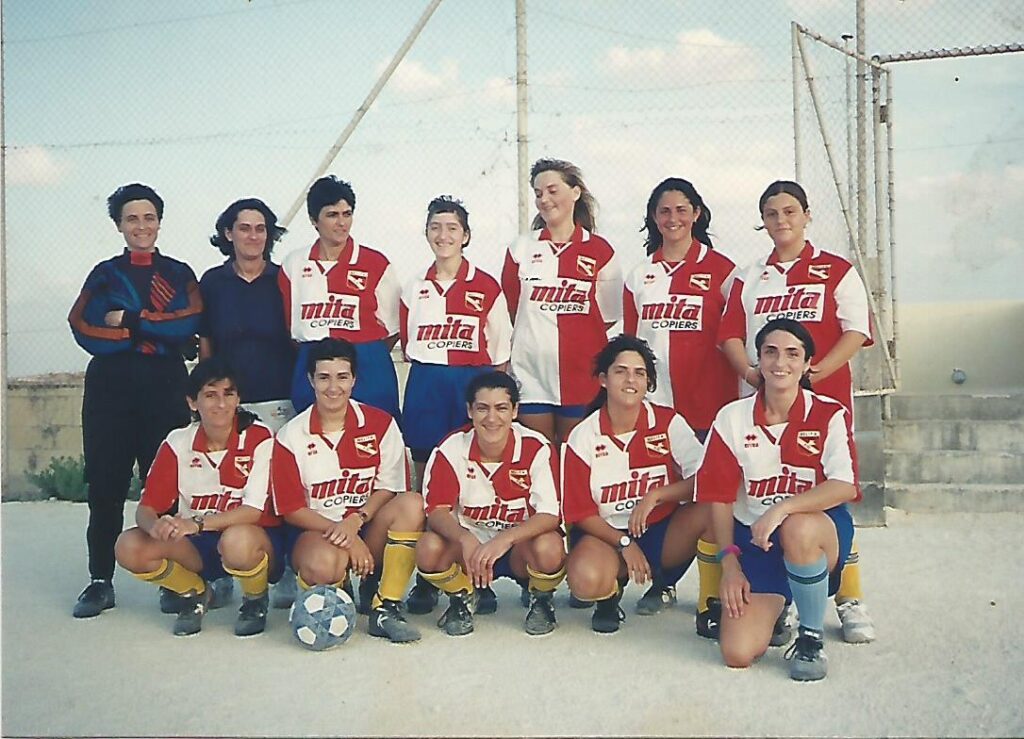 The third and fourth seasons of the women's league, 1997/98 and 1998/99, were the first to bring in a second division. However, it didn't manage to last and quickly disappeared. It took until 2008/09 for it to reappear, with Gozo taking the title on its return. A hiatus in 2014/15 was followed by 2 further seasons before it collapsed once more. An U20 league has also been trialled but not continued. However, the first division has remained consistent, typically with 7 active teams each season.
In 2002, FIFA held a major women's football congress in Germany. Here they mentioned their grants to the various FAs for women's football, grants which had not been made available to the Maltese teams or players. One of the Maltese attendees was Alfred Zammit, who had been a major proponent of women's football in Malta, including managing clubs and helping pressure the MFA for a national team. He queried FIFA's claims with Dr Joe Mifsud, then the MFA president and a man who was no stranger to controversy. He initially denied FIFA's claims when questioned, but the funds became available to the women's league, with pitches and medical support suddenly covered when Zammit asked if FIFA would confirm the MFA's position.. For this pressure, Alfred Zammit was frozen out of the MFA until the subsequent president was elected.
This level of opposition to women's football was not uncommon. Despite the rapid growth, Malta was still a heavily Christian country and many parents were against their daughters playing football, likely due to widespread stereotypes around female players' sexuality. Most of the coaches were male and had to keep up pressure on the association to help develop the point of view that women's football was fine. Progress on this front was gradual, though the softening of such views across Europe also helped to influence Malta.
Birkirkara's title in 2006/07 would lead to them becoming Malta's first entrant in the UEFA Women's Cup (later the Champions' League). They would be the 45th nation to participate. They wouldn't send a team to the 2008-09 or 2010-11 editions but have done so every other time. Birkirkara would also collect the first Maltese win, 2-1 over Northern Irish side Glentoran in 2022-23 as part of the qualifying rounds.
The National Side
The final developmental step for the islands would be a national side. The Verona tournament showed that Maltese clubs were at a reasonable level and this proved to be the incentive. The coaches of the league pushed for a national team and the removal of Dr Joe Mifsud from the MFA presidency led to its formation in 2001. Alfred Zammit would be the first ever national coach and would lead the team in the debut. This would come against foreign club sides in a tournament in Mozzocane, Italy.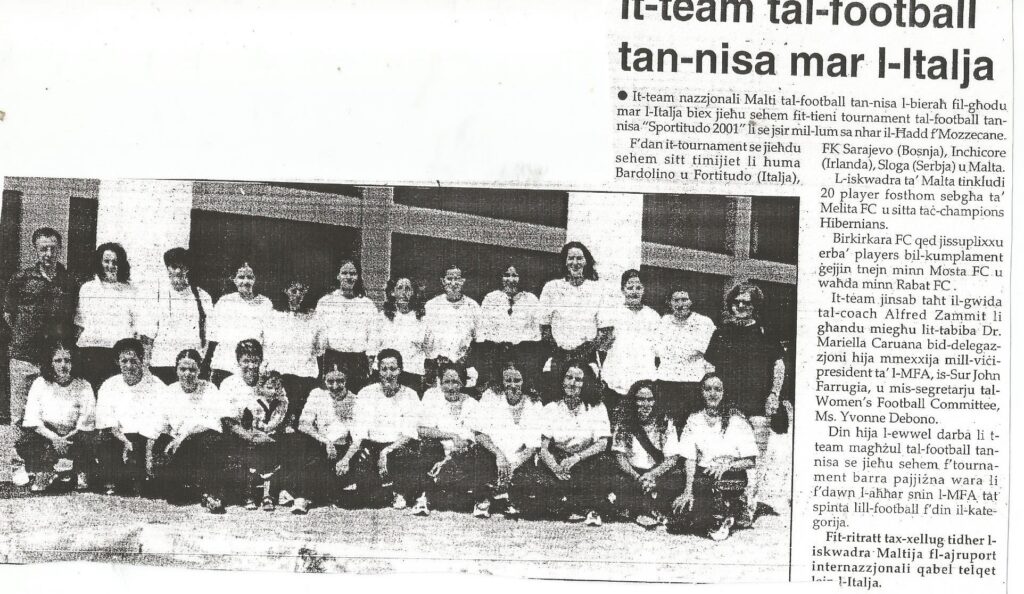 6 teams would play in Italy, the hosts providing Bardolino and Fortitudo, the teams who would later become Hellas and Chievo Verona. The other teams were Bosnia's FK Sarajevo, Ireland's Ichicore and Serbia's Sloga. Malta mainly drew from Melita and Hibernians (then the champions), sending a squad of 20. While they would struggle for results, much like Melita on their tournament appearance, they would also manage close matches against their opponents.
The national team's FIFA official debut would come in their first tournament qualification attempt, this would be for the 2005 European Championship. As it was their first attempt they were drawn in the lower category, Class B, and would be unable to qualify even if they won their group. The Republic of Ireland and Romania would be the strongest opposition, with both being competitive in previous Class B groups. Croatia and Bosnia-Herzegovina would round out their opponents.
Malta started with a tricky tie away in Bucharest, conceding 3 second-half goals in a respectable result. Their next match, also away, against Bosnia was even closer, with their loss being only by a single goal. However, things would not improve, with them finishing the group with 8 losses from 8 and a goal record of 1-35. Their sole goal would come from Sarah Caruana at home against Croatia coming in the 92nd minute of a 4-1 loss. It would be a somewhat chastening start to their competitive women's football.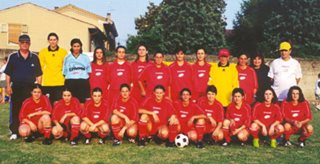 They have attempted to qualify for every tournament since then, and progress has been steady. 2007 World Cup qualifiers were formatted in the same manner as 2005, with Malta in a Class B group. Slovenia would be the new team for them to face, with Croatia and Bosnia-Herzegovina proving a familiar sight. This time they'd manage 4 goals in 6 matches, leading for 54 minutes in their final match against Bosnia before conceding to get their first competitive point.
Qualifiers for the 2009, 2011 & 2013 Euros and the 2015 & 2019 World Cups would include 4-team preliminary qualifying groups, which Malta would be a part of every time. The 2009 qualifiers would start with a draw against Lithuania and Ylenia Carabott scoring a brace against Luxembourg, the first time Malta would score more than once in a match. However, the 3 matches would only bring that solitary point, something which the other qualifiers would improve upon.
In the interim, however, Malta would play in 4 mini-tournaments organised by UEFA. These were played in 2007, 2008 (June and November) and 2009, bridging the gap to the 2011 qualifiers for sides who didn't progress through the preliminary round for 2009 qualifying. Malta would be fairly competitive throughout, grabbing their first competitive win against Estonia in the June 2008 edition (1-0). Further wins would come against North Macedonia 5 months later (3-2) as well as Latvia (4-0!) and Luxembourg (1-0) in 2009. Their final record would stand at 4-2-5 with a goal record of 13-15.
This consistency would continue across the preliminary qualifiers. The 2011 World Cup didn't have a preliminary round, but Malta would otherwise score all their points across the next 4 sets of qualifiers in those preliminaries. They hosted the groups 3 of those times, winning 6 and drawing 3 of 12 matches, even recording their greatest win to date with a 6-0 thrashing of Luxembourg. 2015 qualifiers would prove to be the only time they'd progress to the main group stage though, where they'd lose every match. They'd never finish bottom of their preliminary group, however.
In the latest set of qualifiers, for Euro 2022, the preliminary round was again eliminated. Malta would put out their best performance to date, with 3 wins (twice over Georgia and away vs Israel) and a 1-1 home draw against the Israelis. They'd also be competitive against 3rd place, with only a 3-2 loss at home and 2-0 away to Bosnia-Herzegovina, but would finish on 10 points from the 10 matches. The restructuring of future women's UEFA qualifiers in 2022 to a Nations League format should bring interesting development opportunities for the Maltese squad on the back of this performance.
The Maltese Football Association would also increase the number of friendlies played by the national side, with them only being intermittent prior to 2012, but becoming fairly regular in more recent years. Additionally, they've been to all 4 Aphrodite Cyprus Cups (2015-19, not in 2018), the less prestigious version of the Cyprus Cup. With matches played against all of Cyprus, Latvia, Estonia, Lithuania, Israel, Bahrain and Azerbaijan, they registered 5 wins, 5 draws and 4 losses. With these close results they managed to finish 3rd (of 8), 3rd (of 5), 4th (of 6) and 2nd (of 4) respectively, proving their competitiveness at that level.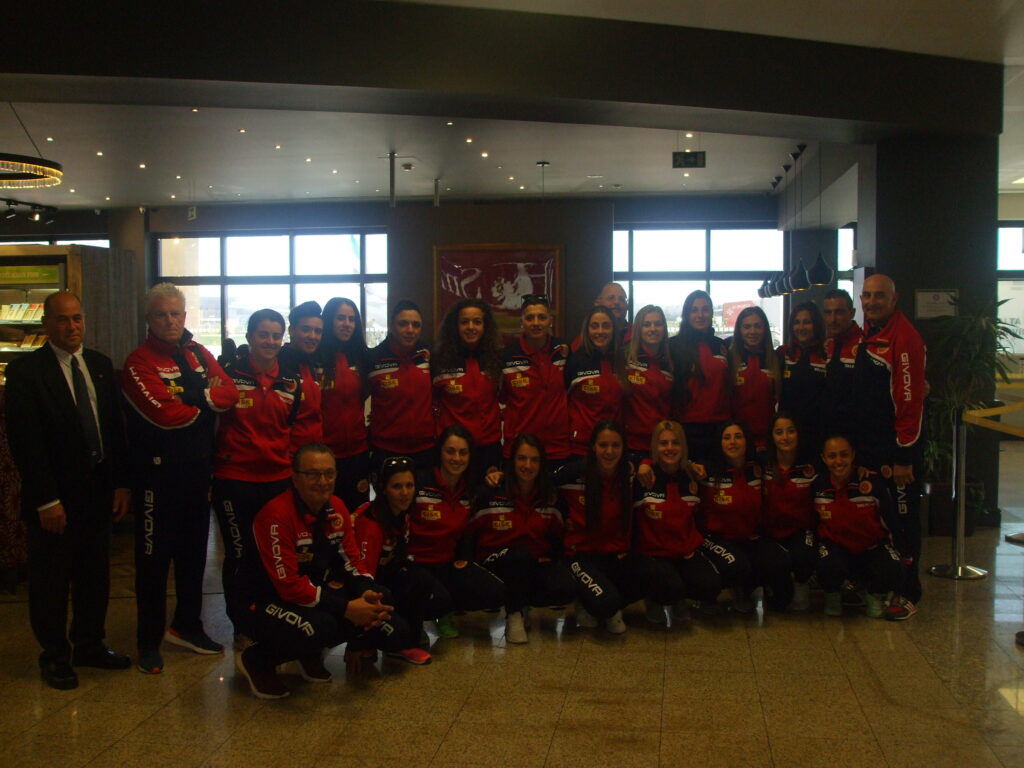 As with the men's national side, the majority of the squad are locally based, drawn from a mixture of teams. However, a handful of players are based overseas, with key players such as Rachel Cuschieri, Emma Lipman, Ylenia Carabott and Maria Farrugia all having played for multiple clubs across Europe. Most of these started their careers overseas, however, showing that the league still has some limitations.
Other National Football
The expansion of women's football on the island was slow, with international youth football coming very late. Overall their youth international appearances have been inconsistent, with either the U19s or the U17s competing, but not both simultaneously. This suggests that the depth of the sport on the island is still fairly limited. They've also not competed in women's futsal to date, though this is far less common for nations.
The U19 side would debut first, using two friendlies against Northern Ireland in August 2013 to prepare for the 2014 UEFA qualifiers. Their first competitive match would bring their first draw, with two late goals completing a comeback to a 2-2 draw against Serbia. They'd follow this up with a first victory, 2-1 in an April 2014 friendly against Azerbaijan, but their appearances have continued to be limited since then.
The U19s would return for the 2015 qualifiers but then would not play again until a 3 match friendly series in September 2018 against Romania, again as preparation for UEFA qualifiers. Another gap would follow, with 2022 qualifiers proving to be their reappearance and finally their first competitive victory. While they dropped into League B for the qualifiers, their draw with Northern Ireland (1-1) and victories over both Azerbaijan (2-1) and the Faroe Islands (3-2) allowed them to requalify for League A the next year. They were the highest ranked 2nd place team, as the only one to draw with the group leaders.
The U17s debuted after the U19s, with September 2016 friendlies against Romania bringing their first draw (1-1) and then victory (3-2). Their final game of the subsequent 2017 UEFA qualifiers brought their first competitive victory, 2-1 over Montenegro, starting off life faster than the U19s. They played 2018 qualifiers, skipped 2019 and returned for 2020, but haven't competed since. However, they were set to play the 2021 qualifiers, though those were cancelled before any matches were played.
Conclusion
Despite a slow and difficult start to the sport, the increased support and consistency has brought significant improvement to Malta. Despite their small population, they've shown that they can compete and it will be interesting to see where they go from here. With thanks to Kenneth Formosa and Alfred Zammit of the Malta Football Museum for all of their assistance in producing this article. The museum is an incredible repository of Maltese footballing history and will be more in-depth than any summary can provide.